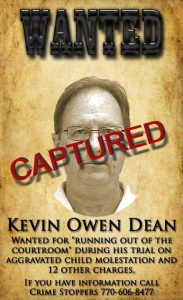 Was wanted for aggravated child molestation and 12 other charges.
Former WCG minister and Herbert Armstrong's right hand enforcer. Dean owns/owned Imperial Medical, a business in Cartersville.
Accusations: Aggravated child molestation and 12 additional charges. Authorities say he avoided the first trial by "running from the courtroom," an offense for which the judge issued a bench warrant. Dean was out of jail on a $75,000 bond.
---
UPDATE: July, 2019
None of you know the harm he has caused many of us that met him under his alias while he was on the run. He continued to prey and manipulate, he had us all convinced that he was a good person but he is pure evil.
He targeted unknowingly young uneducated women with young children. I even found my own son's picture on his office desk along with the 4 year old daughter of his young (domestic maid) girlfriend but not one picture of them.
I was with him when he was captured and blamed by his aiding and abetting friends to the extent that KD had a hit man call my boss and fabricate blatant lies in an attempt to get my boss to pay the hitman to have me murdered. The criminal left 30 audio clips that I have now heard and have turned over to the police. The first clip had "Rocky" introduce himself as calling on behalf of KD.
My life has been a nightmare since then, and NO I did not turn him in, we were at the airport having a business meeting before his flight. It's naive to think that he wasn't be hunted.
I have known him now 7 years and he's evil. He manipulates, lies, steals to get what he wants. I wish I had never met him.
He is today and will always be dangerous.
If I meet my demise, he will be behind it.
He continues to try and communicate with people from Jail, hopefully his efforts will stop in prison or maybe not.
All I want to say to all of you is, I can only speak of who, what and how he portrayed himself while on the run and he's not a good person.
Oh and my son caught him online once while at our house once looking at child pronography, (porno) he told me, I confronted him but he denied it. I didn't have proof other than my son's word and would have never thought that it was possible that he was that type of person.
As years went by we all saw him in action and his method of segregating people and playing them against one another to gain control. He's many things but for sure what he's not is a Christian.
I have only touched on a few things and struggled with whether or not it's wise to post this but I think it's important insight for all to consider so you can form informed opinions.
---

PHYSICAL DESCRIPTION
YOB:
 1950
RACE:
 WHITE
GENDER:
 MALE
HEIGHT:
 5'11"
WEIGHT:
 160
EYE COLOR:
 HAZEL
HAIR COLOR:
 BROWN
---
SCARS, MARKS, TATTOOS
---
INCARCERATION DETAILS
MAJOR OFFENSE:
 CHILD MOLESTATION
MOST RECENT INSTITUTION:
 GA DIAG CLASS PRISON
MAX POSSIBLE RELEASE DATE:
 02/06/2039
ACTUAL RELEASE DATE:
 CURRENTLY SERVING
CURRENT STATUS:
 ACTIVE
---
KNOWN ALIASES
STATE OF GEORGIA – CURRENT SENTENCES
CASE NO: 869594
OFFENSE:
 CHILD MOLESTATION
CONVICTION COUNTY:
 BARTOW COUNTY
CRIME COMMIT DATE:
 06/01/2008
SENTENCE LENGTH:
 20 YEARS, 0 MONTHS, 0 DAYS
CASE NO: 869594
OFFENSE:
 SEXUAL BATTERY
CONVICTION COUNTY:
 BARTOW COUNTY
CRIME COMMIT DATE:
 06/01/2008
SENTENCE LENGTH:
 5 YEARS, 0 MONTHS, 0 DAYS
CASE NO: 869594
OFFENSE:
 CHILD MOLESTATION
CONVICTION COUNTY:
 BARTOW COUNTY
CRIME COMMIT DATE:
 06/01/2008
SENTENCE LENGTH:
 20 YEARS, 0 MONTHS, 0 DAYS
CASE NO: 869594
OFFENSE:
 CHILD MOLESTATION
CONVICTION COUNTY:
 BARTOW COUNTY
CRIME COMMIT DATE:
 06/01/2008
SENTENCE LENGTH:
 20 YEARS, 0 MONTHS, 0 DAYS
CASE NO: 869594
OFFENSE:
 CHILD MOLESTATION
CONVICTION COUNTY:
 BARTOW COUNTY
CRIME COMMIT DATE:
 06/01/2008
SENTENCE LENGTH:
 20 YEARS, 0 MONTHS, 0 DAYS
CASE NO: 869594
OFFENSE:
 CHILD MOLESTATION
CONVICTION COUNTY:
 BARTOW COUNTY
CRIME COMMIT DATE:
 06/01/2008
SENTENCE LENGTH:
 20 YEARS, 0 MONTHS, 0 DAYS
CASE NO: 869594
OFFENSE:
 CHILD MOLESTATION
CONVICTION COUNTY:
 BARTOW COUNTY
CRIME COMMIT DATE:
 06/01/2008
SENTENCE LENGTH:
 20 YEARS, 0 MONTHS, 0 DAYS
CASE NO: 869594
OFFENSE:
 CHILD MOLESTATION
CONVICTION COUNTY:
 BARTOW COUNTY
CRIME COMMIT DATE:
 06/01/2008
SENTENCE LENGTH:
 20 YEARS, 0 MONTHS, 0 DAYS
CASE NO: 869594
OFFENSE:
 ENTICING CHILD-INDEC PURP
CONVICTION COUNTY:
 BARTOW COUNTY
CRIME COMMIT DATE:
 06/01/2008
SENTENCE LENGTH:
 20 YEARS, 0 MONTHS, 0 DAYS
CASE NO: 869594
OFFENSE:
 CHILD MOLESTATION
CONVICTION COUNTY:
 BARTOW COUNTY
CRIME COMMIT DATE:
 01/01/2006
SENTENCE LENGTH:
 20 YEARS, 0 MONTHS, 0 DAYS
CASE NO: 869594
OFFENSE:
 SEXUAL BATTERY
CONVICTION COUNTY:
 BARTOW COUNTY
CRIME COMMIT DATE:
 01/01/2006
SENTENCE LENGTH:
 5 YEARS, 0 MONTHS, 0 DAYS
STATE OF GEORGIA – PRIOR SENTENCES
STATE OF GEORGIA – INCARCERATION HISTORY
INCARCERATION BEGIN: 06/06/2019
INCARCERATION END: ACTIVE
---
More HERE