THE DISFELLOWSHIPPED
Updated 3/06/ 2000
Alan B.
Norm B.
Douglas B.
John B.
Ron B.
Gene B.
Mark J. B.
Robert B.
Loyd C.
Jane C.
Lisa C.
Patricia C.
Adam C.
Stephen Earl D.
Ray D.
April D.
Rhoda F.
Roy F.
William F. III
Bob F.
Charles G.
Janis G.
John G.
Wilson G.
Carol G.
Jean H.
William H.
Robert H.
Megan K.
Ken P.
Cheryl P.
Christopher P.
Laura H.
Rodney L.
Mark M.
Ed M. Sr.
James M.
M. M.
Russell M.
Marc M.
Joseph M.
Dave N.
Jack N.
Larry N.
Nathanael O.
Kim O.
Bruce R.
John R.
Thomas S.
Joseph S.
Margie S.
Dan S.
Neil S.
Albert V.
Merle V.
Jo Beth V.
Kevin W.
John W.

Click here for comments from the applicants and their qualifications.

---
HERBORG
IS IN CONTROL..
and ready to assimilate the brethren!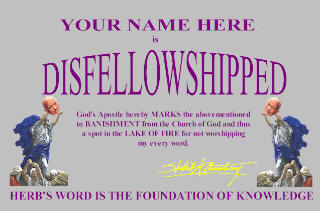 This handsome certificate, personally signed by the Apostle, will certify you as an apostate!!!
Click to see a full sized version
The GYCG Personal Correspondence Department has had many requests by former members of the churches of God to be disfellowshipped. With the various splits, being a dissident isn't what it used to be. People who have willingly turned their back on Herbert W. Armstrong have simply BEEN IGNORED by people too busy establishing miniature empires rather than MARKING PEOPLE PUBLICLY. Apostates have been DENIED the rights and privileges of being cast off by God's true church to the doom of THE LAKE OF FIRE!!!
Most churches (other than Jehovah's Witnesses) have NEVER HEARD of disfellowshipping. Even if you were marked by a splinter church, what satisfaction comes from being sent to eternal nothingness by a second-rate HWA wannabe??? NONE.
Where is an apostate to go?? To the GRAVEYARD CHURCH OF GOD, of course!!! Applicants accepted for disfellowshipping will receive an Disfellowshipped Certificate via e-mail, suitable for framing, SIGNED BY THE APOSTLE HIMSELF!!! THERE IS NO COST OR OBLIGATION!!!! IT'S FREE!!! THE GYCG will never charge to disfellowship ANYONE. The cost is cheerfully borne by the tithes and offerings of the remaining elect.
Remember, not everyone qualifies for the Lake of Fire. Successful applicants will submit their name and reason they qualify for disfellowshipment to the GYCG to be posted to the right. If accepted, a beautiful, signed certificate will be e-mailed to you with a note from the Apostle expressing his disappointment in your not making it into the kingdom.
YES, I WANT TO BE DISFELLOWSHIPPED!
or..
I WANT TO DISFELLOWSHIP SOMEONE.
(This takes you off-site to the Painful Truth. The GYCG does not empower individuals.)
---
---

©1999 Graveyard Church of God