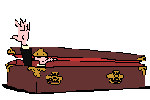 Greetings Friends!
From
Herbert W. Armstrong
---
Picked as a
Worst of the Web
Site by About.com's expert guide!
---


THE GRAVEN IMAGE CAM
All Herb..all the time. Check it out.
AND...
See how long the Apostle has been dead.
---

---
JOIN THE COLLECTIVE
NOW ACCEPTING APPLICATIONS TO BE DISFELLOWSHIPPED
Do YOU qualify???
CLICK HERE FOR INFO
---
COUNTING THE ELECT
You are the person to answer God's calling since April 1, 1999.
---


Created and operated by:
The Caretaker
© 1999 Graveyard Church of God

THE GRAVEYARD CHURCH OF GOD

Coming May 13!!!

The Apostle visits Buffalo Bill!!!

also..

Trade for Apostle-related merchandise!!!

The Apostle's Y.O.U. Program!!!

AND...
---

OUR REGULAR DEPARTMENTS

SUBMISSION - Our readers submit to the Apostle... and he answers!

DEAD HEADS - The Apostle takes the Gospel to living-impaired WORLD LEADERS!!!

THE VAULT - Dick Armstrong digs up the past with selections from the HWA archives.

URN SALVATION - What members must do to escape the Tribulation!

THE SEVENTH TRUMPET - Decomposing music, art and poetry for the Work!

DEAD LINKS - Herbert tells you where to go!